Dovo Beard & Moustache Scissors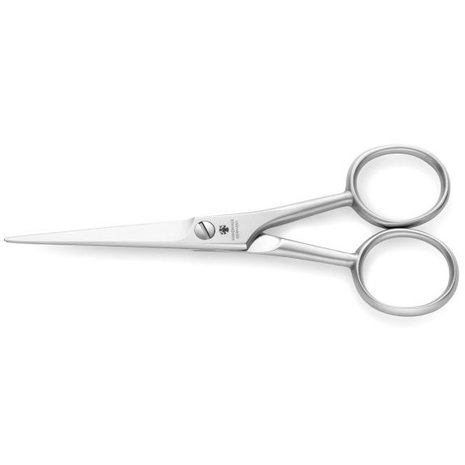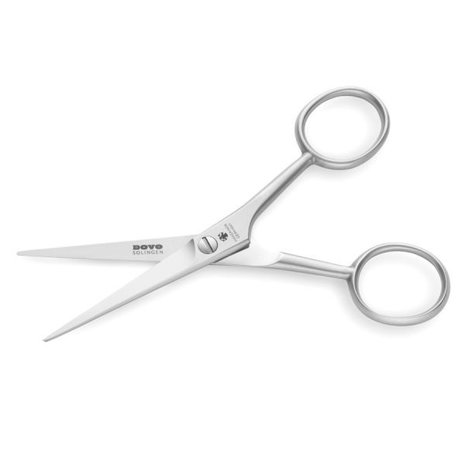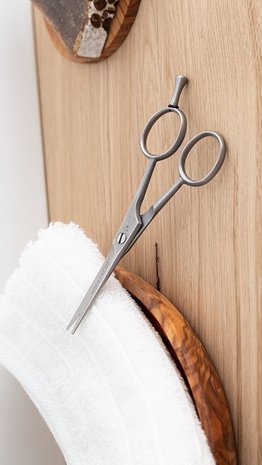 Product description
Description
The DOVO 43 beard and moustache scissors in matt-finished stainless steel are the perfect tool to get your beard back in shape! The blade length is deliberately kept short for easy handling and precise cuts. Due to the micro serration every beard hair is grasped and cut off cleanly.
Material
This instrument is made of 1.4034 stainless steel. The metal alloy shows good corrosion resistance against soap or moisture and is therefore ideal for the production of high-quality scissors. In addition, the material has good cutting properties and can be ground precisely. The high-quality matte surface can be gripped safely even with wet hands.
Grind
These DOVO scissors have been micro-serrated on one side by hand. By grinding the scissor blade on a rubber plate, fine serrations are created. This structure prevents hair, beard hair, fingernails, or cuticles from slipping off the cutting edge. This results in outstandingly precise and secure cuts.
Product Details
For hair and beard scissors, the construction with flush-ground scissor tips has proven to be particularly advantageous. The scissor points are flattened rather than pointed at the front. This minimizes the risk of injury and is recommended when using scissors in the facial area.
Maintenance
In order that your DOVO scissors can serve you well for a long time, you should periodically check the tightness of the screw and retighten it if necessary. Carbon steel scissors will not rust if you dry them thoroughly after use. You can easily oil them a little if necessary. Please always have scissors reground by us or a specialist!
Product specifications
Brand

Dovo

Article Number

DOVO41453201

Barcode

4045284006580

Dimensions

11.4 cm x 4.5 cm x 0.6 cm