Dovo Straight Razor Barbarossa Olive Wood 5/8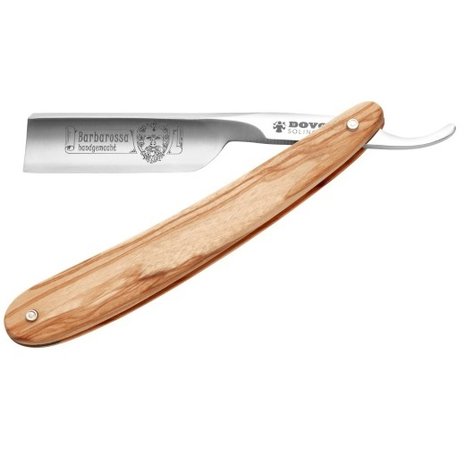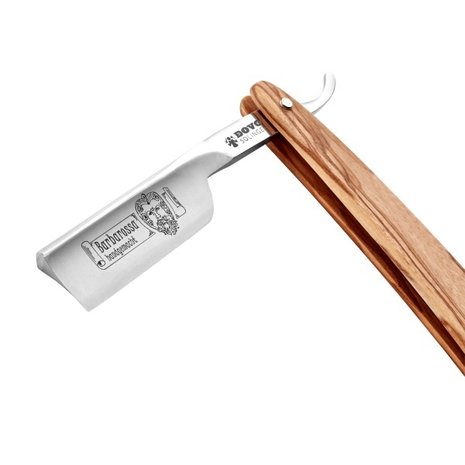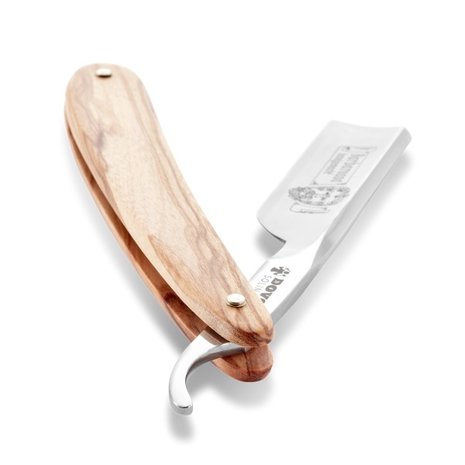 Product description
Description
The 5/8 inch DOVO Barbarossa has been designed for the needs of barbers and all bearded men. The special feature of this straight razor is its short blade. It is particularly manoeuvrable and precise to control. Thus the user can shape and contour his beard with millimetre accuracy. The fine engraving of the famous bearded Emperor Barbarossa adds a beautiful flair to this unique razor.
Material
This straight razor is made of carbon steel with the material number 1.2210, better known as silver steel. In order to achieve a hardness of approximately 61 HRC, the material is heated to over 1000 degrees celsius and then immediately quenched with a special oil. The subsequent tempering at about 200 degrees celsius gives the blade elasticity and toughness.
Handle Material
Olive wood is a unique, natural material. It is harder than domestic oak or beech wood and shows a high resistance against mould infestation. Even untreated olive wood has an above-average resistance to water making it the perfect material for straight razors, shaving brushes, and shavettes.
Grind
During hollow grinding, the straight razor is ground concavely from the back to the cutting edge. This design combines great flexibility with high torsional rigidity in longitudinal form. Enjoy the satisfying sound and feel of a gentle shave from the vibration of the razor blade trimming your facial hair.
Product Details
A straight razor with a traditional square point, the cutting edge ends directly at the tip of the blade at a 90° angle. With a little practice, you can achieve formidable results both when precisely shaping contours and when shaving dimples. Such types of blades allow you to shave comfortably with absolute precision, but should only be handled by experienced users.
Blade Width
5/8 inch razors are true all-rounders and can do any wet shaving task with flying colours. The blade is relatively heavy and can therefore glide gently over your skin without great pressure. At the same time, it is still nimble enough to manage even more technically demanding passages around the nose, ears, and chin.
Guide
Your shaving begins with stropping on a leather strop. After you have generously coated your face with shaving lather or shaving oil, grab the blade so that the open handle points away from you. With your free hand, gently hold your skin to form as straight a surface as possible. You set the blade at about 30° angle and smoothly pull it down over your face. First, start going with the hair, and then finish by going against the growth direction.
Maintenance
Most straight razors are made of carbon steel. To avoid stains, rinse your blade with warm water after shaving. Next, dab it dry with a cloth without touching the cutting edge and stow it open to dry completely. Between two applications there should be at least 48 hours so that the burr can realign itself. If you are not going to use your razor for a longer period of time, apply a bit of acid-free oil to it.
Product specifications
Brand

Dovo

Article Number

DOVO10580026

Barcode

4045284008980

Dimensions

14.5 cm x 2.4 cm x 1.1 cm