Dovo Straight Razor Inox Black 3/8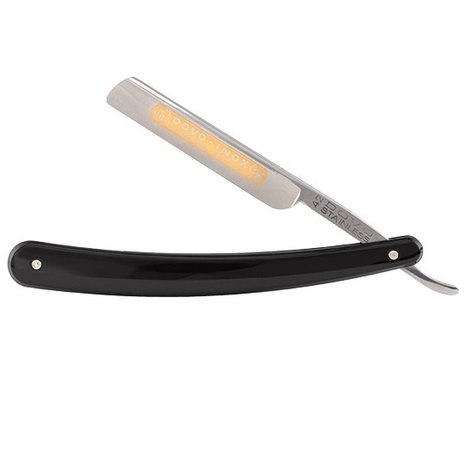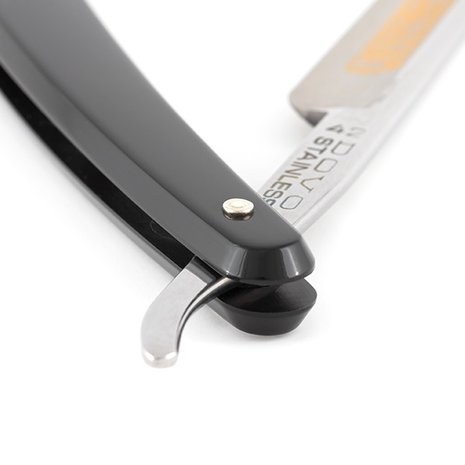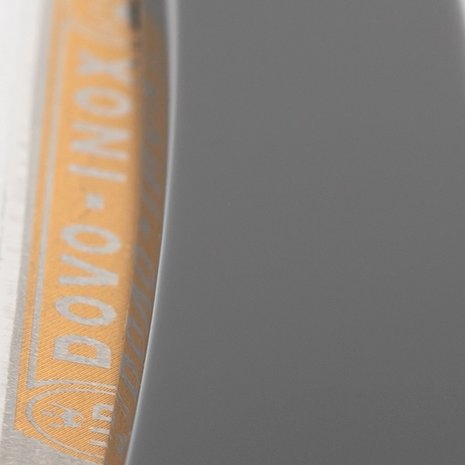 Product description
Description
The DOVO 42 straight razor is the last traditional barbershop razor in our product line. Before the invention of interchangeable razor blades, straight "wedge" grind blades were very common for contour shaving. Due to the small width of 3/8" and the French point, it is a good choice for experienced users to shave contours with millimetre accuracy.
Material
This straight razor is made of grade 1.4034 stainless steel. The metal shows good corrosion resistance against soaps, water, and steam and is therefore ideal for the production of high-quality and incredibly sharp blades. The modern metal alloy requires very little maintenance, is easy to clean and is particularly ideal for newcomers. The elegant details are gold-plated with 24 karat gold.
Handle Material
PMMA, also known as acrylic glass, is a thermoplastic. A complex polishing process gives the material its unmistakable shine and underlines the high-quality appearance of the DOVO straight razors. You don't have to take special care of the material. Simply wipe off soap residue and dirt with a damp cloth.
Grind
A flat ground straight razor is also often referred to as a wedge among connoisseurs and experienced barbers. The blade is relatively rigid and shows its advantages not only when cutting hair in combination with a comb, but also when safely shaving fine contours.
Product Details
A straight razor with a French point is characterized by the arched, slightly rounded transition of the point towards the blade. When contouring your beard, this allows you to work with millimetre accuracy. For this reason, such a point shape is very popular with professional barbers.
Blade Width
Straight razors with a blade width of 3/8 inch show their individual strengths on complicated facial areas. Due to the narrow blade width, it is particularly easy to manoeuvre around the nose and ears. In addition, the edge can be set exactly at the optimum cutting angle for these challenging areas.
Guide
Your shaving begins with stropping on a leather strop. After you have generously coated your face with shaving lather or shaving oil, grab the blade so that the open handle points away from you. With your free hand, gently hold your skin to form as straight a surface as possible. You set the blade at about 30° angle and smoothly pull it down over your face. First, start going with the hair, and then finish by going against the growth direction.
Maintenance
Most straight razors are made of carbon steel. To avoid stains, rinse your blade with warm water after shaving. Next, dab it dry with a cloth without touching the cutting edge and stow it open to dry completely. Between two applications there should be at least 48 hours so that the burr can realign itself. If you are not going to use your razor for a longer period of time, apply a bit of acid-free oil to it.
Product specifications
Brand

Dovo

Article Number

DOVO15381387

Barcode

4045284007327

Dimensions

15.6 cm x 2.2 cm x 1 cm