Merkur Safety Razor 39C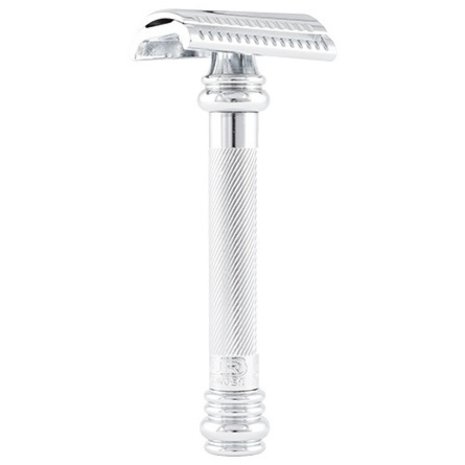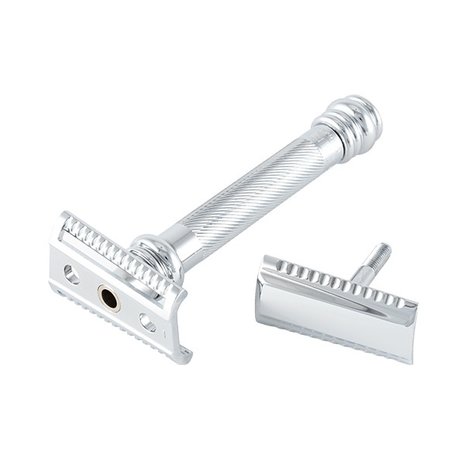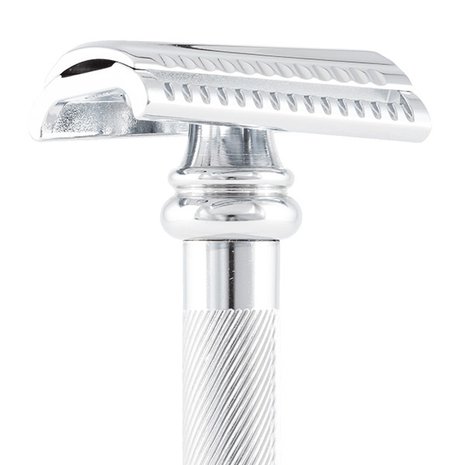 Product description
Description
The MERKUR 39C razor is a slant bar razor for wiry and dense beards. Due to its heavy weight and slant bar head, it can handle even the most difficult tasks easily and thoroughly. It's no wonder that fans call it "the sledgehammer". With the barber pole-shaped, ribbed handle, you have it safely and comfortably in your hand.
Material
The head of the safety razor is manufactured using the zinc die-casting process since it creates instruments with maximum precision even for complex shapes. In order to ensure a comfortable weight distribution, we only use brass for the handle. The chrome finish protects the razor from corrosion and underlines the high-quality design.
Product Details
Slant bar razors are characterized by the fact that the comb and top plate are twisted against each other along the longitudinal axis. The blade is therefore very rigid and gets a sharper shaving angle. Used with focus and care, you will achieve extraordinary shaving results. The large blade gap of the closed head allows good lather flow and resists clogging.
Guide
First, you should wash your face with warm water. This opens the pores and makes shaving easier. Start by generously coating your skin with shaving lather. Give the lather 5 minutes to soften the beard hair. Then, you set your safety razor at an angle of 30 - 45° and guide it over your face without pressure. To free the razor head from cut hair, simply hold it under the tap every few strokes.
Maintenance
The care of a safety razor is very easy. After use, simply wash out the razor thoroughly and remove lather residue and cut hair. A nail brush and a hair shampoo or dish soap help with stubborn dirt. Lastly, dry it with a towel and it's ready to go for your next shave. When changing razor blades, check all of the parts for a tight fit.
Product specifications
Brand

Merkur

Article Number

MERKUR9039001

Barcode

4045284012475

Dimensions

4.1 cm x 2.5 cm x 10.2 cm

Handle Diameter

1.2 cm