Merkur Super Platinum Double Edge Blades - 100 Pack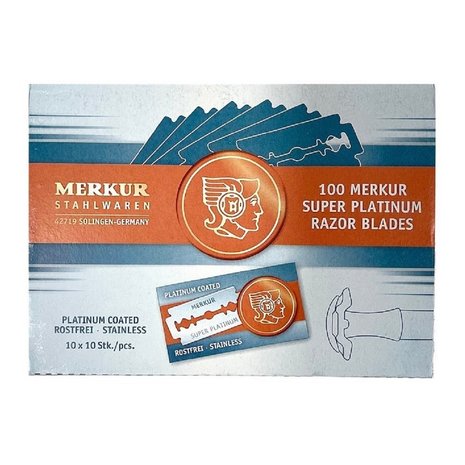 Product description
Description
The MERKUR razor blades have proven their worth for decades due to their sharpness and cutting ability. They are specially designed for the requirements of our safety razors. The blades are individually packed in paraffin paper so that you can break them safely and prepare them for use in a SHAVETTE®.
Material
These razor blades are made of stainless steel. The metal shows good resistance to corrosion and is also perfect for the production of high-quality blades due to its hardness after tempering. In addition, we protect the blades with a platinum coating and a non-stick coating, so safety razors or Shavettes glide gently and effortlessly over the skin.
Guide
Double edge razor blades have two main advantages: they are significantly cheaper than cartridge razor blades and are more environmentally friendly. Your safety razors and Shavettes are quickly ready for use. With a simple blade replacement, you'll always be working with a clean instrument!
Scope Of Supply
100 Razor Blades
Product specifications
Brand

Merkur

Article Number

MERKUR405410

Barcode

4260734880729