Proraso Red Nourishing Shaving Cream 150 ml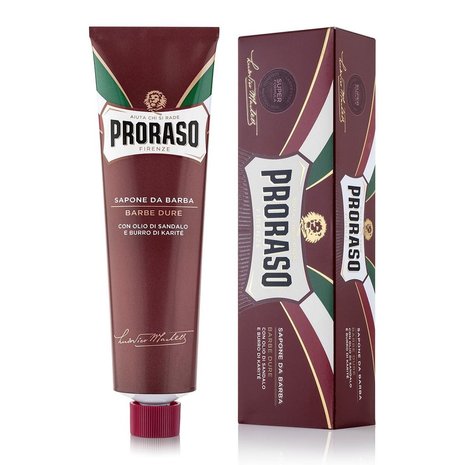 Product description
Description
An extremely fine, dense and creamy soap which affords accurate and profound shaving and protects the skin, leaving it soft and moisturised. It is produced with the hot saponification process. To obtain the right creamy consistency, the reaction continues for another whole night during which the ingredients, oils, fatty acids and alkalis are mixed and blended together. The soap cools gradually under slow mixing, losing any trace of the alkalis, which are aggressive for the skin. Deposited in steel containers, after 3-4 days it reaches the right structure and stability: it is perfect for respecting the dermis and for interacting with the structure of the hairs. This unique process makes the soap more effective in protecting the skin and in the gliding of the razor.
Formula
Enriched with Sandalwood Oil and Shea Butter, it also protects the driest skins against the aggression of the razor, making it easier to shave thick and hard beards.
Usage
Gently let about 2 cm of soap settle in among the moist bristles of the brush, and massage the face with round movements. You will obtain a creamy and compact foam able to soften any kind of beard, making shaving a pleasant daily habit.
Product specifications
Brand

Proraso

Article Number

PRO400512

Barcode

8004395001095